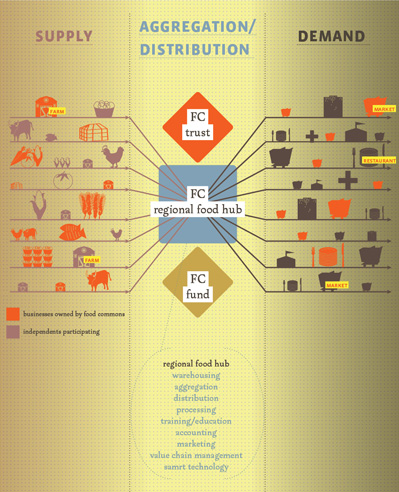 The Food Commons plays the following roles within the Food Commons Model:
Development of the Food Commons model through research and meetings of experts and stakeholders.
Public education about farming, food economics, democratic governance models, etc.
Food Commons Trust
The purpose of the Food Commons Trust would be to purchase and hold farmland, in perpetuity, within and surrounding metropolitan areas, and to build and own the infrastructure necessary to make local/regional food systems viable and sustainable. The Trust could transition vacant land into farming and rehabilitate existing, under-utilized infrastructure.
These public holdings would support local food enterprises by providing opportunities for individuals who are not from farmland and infrastructure-owning families to lease these assets and to create businesses without first having the capital necessary to purchase them; this would significantly reduce their debt load and increase their potential for success. A large percentage of Trust land and infrastructure could be reserved for beginning farmers and entrepreneurs.
The Trust would create a physical 'home' for a national food-security network that would assure the delivery of high-quality food to communities throughout the nation, sourced as much as feasible from local producers. It would foster the development of a decentralized, integrated system of small enterprises, from farms to retail stores that, taken together, would complement existing small and mid-sized, independent, local, and sustainable food enterprises. It is possible to think of the Food Commons Trust as a "National Park System", a "Bureau of Land Management," or a Public Utility dedicated to national food security and health – but, importantly, without the typical government bureaucracy, it would be established as a public, not-for-profit Trust, chartered to operate for the perpetual benefit of the American public.
The challenge of capitalizing such an ambitious enterprise is enormous. A potential source of capitalization could be land and infrastructure currently owned by banks and other institutions that receive government support, either directly, or through government guarantee programs and FDIC insurance. Many more of these assets are collateral for non-performing loans that banks would like to remove from their books. Moving these assets out of banking 'limbo' (and ultimately government support) and into the Food Commons Trust would remove them from the already-depressed commercial real estate market, and allow them to be re-directed to productive use. This transfer would be the first step in jump-starting new economic activity, especially in economically depressed areas that would lag behind even in a normal economic recovery.
These real productive capital assets spread throughout the nation, held in perpetual trust, would be used to facilitate the creation of new value, based on an essential sector of the economy – food and agriculture.
Trust assets could include:
Farmland and improvements
Aggregating/processing facilities and Public Markets
Wholesale markets
Distribution systems including transport infrastructure
Retail markets
The Food Commons Brand
The Trust would receive income from lease payments made by businesses utilizing these assets. The income would be used for the following purposes:
Trust administrative costs
Regional Food Hub administration costs
Local and State property taxes and fees
Investment in additional land and assets as necessary
Ongoing capital improvements
Since the Trust's land and facilities would be held in perpetuity, occupancy would change as time went by. As older owners and operators of food system businesses retired, or as individual businesses failed or were sold, they would make way for a new generation of entrepreneurs and workers. They could use entry-exit systems found in Employee Stock Ownership Plans and other innovative employee- and management- stock participation methods for transferring business ownership in an orderly and fair manner.
Food Commons Financing Organizations
Seed capital from the government and public membership fees could establish regional, not-for-profit Food Commons Financing Organizations that would apply for the federal designation as Community Development Financial Institutions (CDFIs). These CDFIs would serve businesses and customers in the Food Commons Regional networks, by:
Making loans to individual enterprises of various types that
would operate different parts of the system (farms, fishers, processors, retail stores, etc.)
Accepting deposits from retail customers and providing traditional banking services. The Banks would accept individual and institutional deposits and pay interest.
The CDFIs might desire to issue their own 'notes' backed by crops, livestock, and fish stocks that could be redeemed within the Food Commons system, much as subscribers to CSA's pay in advance for food they will receive at a later date.
Customers could redeem their cash deposits for discounted food if they chose. They could use a debit card transactions system that could include food stamp enhancements.
The CDFIs would need a corps of "old-fashioned" bankers who know the people in whom they are investing and understand their local community. They would operate on very low leverage, so as to minimize risk to depositors.
The CDFIs could operate in concert with other local financial entities such as local stock exchanges, local governments, local banks, in order to provide a full range of financial services for
businesses operating within the local marketplaces.
The CDFIs might even handle the sale of special local bonds issued to help capitalize the numerous new businesses spawned by the regional Hubs. In fact, creating a new category of conservative bond investments – Food Commons Bonds – might be especially appealing to individuals, pension funds, and institutions looking for a modest but reliable return on an investment in an essential industry with a broadly diversified income stream. Further, they could enjoy the visible improvement in their communities that their investment had helped to enable.
Food Commons Hub
Regional Food Commons Hubs are the coordinating entities that facilitate the aggregation, distribution, processing and marketing of products within a foodshed. A Food Commons Hub could be a single, cooperatively integrated enterprise and/or a service provider to a wide variety of small food businesses that operate in alignment with Food Commons principles to produce, process and market food within a region.
Core elements of the cooperatively integrated Food Commons Hub could include independent or Food Commons Community-owned and operated enterprises across the food value chain:
Production farms, ranches and fishing boats.
Processing plants, slaughterhouses, dairies, and commercial kitchens.
Aggregation and distribution warehouses, trucks, and other infrastructure including information and management systems for handling transactions and logistics among producers, processors, and wholesale and retail markets.
Retail grocery stores and/or marketplaces that sell products from FCC producers and aligned businesses, both from within the foodshed and from other regions in the Food Commons federation.
Portions of the Food Commons Hub, along with the Trust and CDFI, could be co-located in a Food Commons Center, managed by staff and anchored by a Food Commons Community retail store. In addition to housing core Food Commons business functions, the Food Commons Center could provide physical space and infrastructure for a community of businesses and enterprises that share Food Commons principles and support the trade of local, regional foods in a welcoming, celebratory and approachable way, for consumers of all socio-economic levels as well as for large institutional purchasers.
Tenants of the Food Commons Center might include a host of for-profit, non-profit, or public operations according to the needs and vision of the surrounding community, including but certainly not limited to:
Food Hall a marketplace patterned after the Chelsea markets in New York or Borough Market in London, housing different types of food businesses from retailers of produce, meats, fish, cheese, and other value-added food products (e.g., ice cream, jams, pickles, baked goods), to restaurants, kitchen equipment stores that focus on sustainable materials and affordable costs, and shops with products made from local fibers and crockery.
Mobile Food Vendors fleet of trucks dispatched to sell fresh healthy foods direct to consumers in underserved neighborhoods.
Food Business Incubator kitchen and processing facilities for use by food entrepreneurs testing products and launching small business, along with small business consulting and support services.
Demonstration Farm/Community Garden where families can learn about and participate in farming, urban agriculture, and animal husbandry.
Learning Center classrooms and kitchens for job training and certification programs, farming, cooking and nutrition classes and culinary demonstrations.
Community Meeting Space auditorium or amphitheater for educational, cultural, and celebratory gatherings.
Health and Human Services access points for food benefit programs.
Community Health Center
Job Training Center for food entrepreneurs
Park/Fitness Area
In some cases, communities may have the good fortune to have existing business amenable to Food Commons Principles, who are willing to adjust their business models to accommodate FC operating principles, or perhaps even sell their businesses to the Food Commons. In other cases, the essential elements of a Food Commons core will need to be built from scratch, from farms to retail stores. Once a Food Commons Hub is operational, the enterprise might expand in a number of directions:
The Food Commons Hub could acquire or create new retail, distribution, processing and production units, and/or expand relationships with existing small farms and businesses in the region as suppliers and vendors of Food Commons products.
Satellite Food Commons Centers could be strategically sited around a metropolitan area, starting with the most underserved communities.
Existing or new farms, distributors,
retailers, and food hubs that operate in compliance with Food Commons principles could become certified FC partners utilizing the Food Commons brand in their own sales and marketing for a fee, which could in turn be used to support programs such as skills training for new growers.